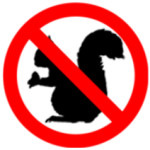 Squirrel Control Brampton. Squirrels are an active bunch of wildlife and their invasion in your home or offices could pose as quite an annoyance. Squirrels are responsible for damaging property and this could be frustrating. If these small but stealthy rodents are not eradicated at the right time, they could spread and start a whole infestation. You may not want to try self removal and control solutions, as it may not be as effective as professional removal solutions; and instead of lessening the trouble for yourself, you may just add to it.
We at Squirrel Control Brampton are trained and licensed to deal with the safe, humane and guaranteed removal and control of squirrels. We inspect your property thoroughly to locate all the entry points used by squirrels and then seal them permanently.
Our services are available 7 days a week, so call us at 647-496-0815 and a technician will assist you right away.
Squirrel Invasions and Spread
Squirrels are usually found living in tree trunks. But due to the shrinking of their natural habitat they look for food and shelter in homes. Also, during the cold winters, food sources become scarce, driving squirrels to look for options elsewhere. Over time, squirrels have become well-acquainted with humans and can co-exist in close proximity without any fear. This poses as a grave problem for people, as squirrels are annoying creatures. They are noisy, messy and at times even pose as a hazard to health. It is best to get rid of such invasions at the earliest.
Health Threats
Squirrels may be small in size, but they can cause some seriously big health problems if ignored. Squirrels are carriers of various perilous bacteria and germs that could harm the people who reside in close proximity to these rodents. Some black squirrels are also said to be rabid. Their bite could be dangerous. It's best to leave them alone and let the professionally trained removal technicians eradicate them for you.
Our staff at Squirrel Control Brampton is trained and experienced in the humane removal and control of squirrels. We locate and block their entry points so as to avoid any future invasions.
Squirrel Removal and Control Solutions
We at Squirrel Control Brampton provide you with guaranteed squirrel eradication solutions. Our technicians are backed up with years of experience in the field of wildlife removal and control. We do not use chemical treatments. Instead, we use safe and humane methods to remove such urban wildlife from your home or commercial settings. This also guarantees the safety of your family and employees. Call us at 647-496-0815 and book an inspection appointment with our technician. After determining the level of squirrel infestation, we will provide you with the best solution to suit your needs.