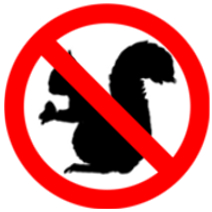 Squirrel removal Pickering. We remove squirrels and seal all entry points. Effective reliable solutions by experienced professionals. If you hear noises from your attic or roof chances are you are dealing with squirrels. Give us a call. Our experienced technicians will identify the problem and offer the best solution for humane and permanent removal. Transparent pricing. Call: 647-496-0815.
Squirrel Removal Services
Finding  the entry point or points is the first step of every squirrel removal job. Our technician will inspect your property and show you photographs of every hole or entry point squirrels might be using to enter your home. All entry points will be sealed using galvanized wire mesh to prevent animals from getting back in. A custom one way door will also be installed to allow animals to exit but not enter. Squirrels will use the one way door to exit but will not be able to re-enter. Our technician will return to your property to remove the door and seal all entry points.
Complete Animal Proofing Solutions
In some cases, and where there are more serious squirrel or even raccoon problems, a complete animal proofing of your home might be required. We provide a warranty for our services and offer competitive rates.
Squirrels
Squirrels are rodents who live eating, fruits, nuts, fungi along with other plant issue and usually nest in trees. In urban and suburban settings they often find shelter in attics and roof soffits. They breed twice per year and can have litters of several young each. The cold winters force the animals to enter attics, chimneys, and other small openings in the outside of a house. They are curious creatures and this curiosity can be damaging to your property. They will chew and gnaw on pretty much everything and are known to cause electrical problems. Ignoring a squirrel problem can create a potentially hazardous situation as they do contaminate the area they live in
Even a small squirrel problem can lead to more serious issues down the line. If one animal made it in, chances are more will follow. If you have a squirrel problem in Pickering give us a call: 647-496-0815